India is a country engrossed in Bollywood and absolutely obsessed with Shah Rukh Khan, a.k.a King Khan. This 'all-rounder' actor has come a long way in his life and now is famous because of his tremendous success and incredible acting. SRK is also known as a philosopher as his profound quotes inspire people to not give up and help them ignite the drive for success in their hearts.
Here are some quotes by Shah Rukh Khan that are sure to inspire you in a heartbeat and our perception of what they mean:
Don't let your fears get the best of you, fight hard and be successful in achieving all the goals in your life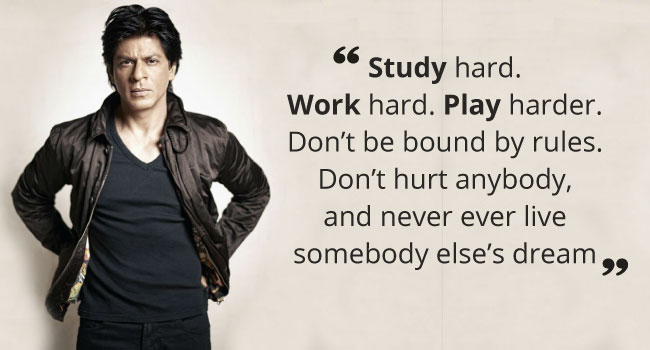 Study hard, work hard and play even harder. Don't let yourself be bound by rules and always remember to live and achieve your own dreams, not the ones forced upon you by others. That is the only way you can truly be successful.
Rises and downfalls are a part of our lives but that doesn't mean they are permanent. Don't let your failures bring you down as they are temporary, learn from them, success will always find a way to you if you keep working hard.
Failure is a term that holds us back from taking risks and making bold decisions that have the ability of unleashing our true potential. Success and failure, both are structured in a way that makes you learn and grow in your life and career. The only difference between the two is that success is always welcomed with open arms.
The foundation of leadership is nothing more than honing the skill and discipline of nurturing and maintaining a mind that is never restricted by the apparent limitations that we face in our lives.
Outworking yourself gives far better results than just focusing on getting your tasks done. Challenge yourself and make sure you do better than before.
Quantifiable goals are just illusions; hard work is the only answer to achieving your goals and your dreams. It is your reality.
We should always focus on achieving our goals and work as much as we can to reach them faster. The more you give the sooner you will get.